Posts for tag: tads
By Mission Hills Family Dentistry Inc.
December 12, 2013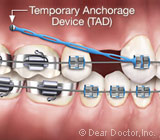 The field of orthodontics continues to progress with new and innovative techniques. One such innovation is known as a TAD — Temporary Anchorage Device. Best described as "mini-implants," TADs provide orthodontists with more precise control over the movement and positioning of certain teeth that could reduce treatment time.
Braces, the most common form of orthodontic device, are small brackets affixed to the outside of the teeth. We thread small flexible wires through the brackets which in turn apply gentle pressure to the teeth. This puts pressure on the periodontal ligament, an elastic tissue that holds the teeth in place to the jawbone. The ligament has small fibers that insert into the teeth and are held there by a substance called cementum. The pressure on the ligament causes it to form new bone, ligament and cementum as it moves into the new desired position.
Of course, each orthodontic case is different. The best outcome for some patients is to move only certain teeth, while minimizing movement on others. This involves a concept in orthodontics known as "anchorage," a planned circumstance where certain teeth or groups of teeth are immobilized (or "anchored") to prevent movement.
TADs do just that — they are, in effect, mini-screws or implants temporarily placed in the jaw bone to inhibit movement of a specific tooth or group of teeth, while not interfering with the movement of the misaligned teeth. These tiny devices are typically installed using only local anesthesia to numb the general location of their placement, and then removed when orthodontic treatment is completed.
TADs are part of an overall strategy to correct poor bite and teeth misalignment in the most precise and efficient way possible. They require planning, sometimes through consultation with different dental disciplines, to assure that their placement won't damage nerves, sinuses or other vital structures. Their use, though, could help shorten treatment time with braces, and help contribute to the best possible outcome — a new smile.
If you would like more information on transitional mini implants, please contact us or schedule an appointment for a consultation. You can also learn more about this topic by reading the Dear Doctor magazine article "What are TADs?"
By Mission Hills Family Dentistry Inc.
June 19, 2013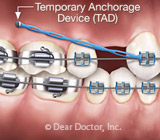 Technology for orthodontic treatments has evolved tremendously over the years. There are now more options than ever before for those seeking to straighten their teeth or fix bite issues. One of those revolutionary options is TADS (Temporary Anchorage Devices), mini-screws that can be used to more accurately control the movement and positioning of your teeth.
So, how do TADS work? Well, these very small screws are temporarily placed into the bone of the jaws to be used as non-mobile anchor units to facilitate tooth movement. They can be removed once the desired movement is complete. In addition, they can be placed using simple local anesthesia (numbing shots in the area).
The procedure is actually quite simple. After numbing the area where the TAD is to be placed, we will use gentle pressure to insert it through the gums and into the bone of your jaws. You may feel some slight pressure during the insertion, but no pain. Following the procedure, you may also feel a bit of pressure and sensitivity for one to two days, but many people experience no side effects at all. As the name suggests, TADS are temporary and usually removed after a few months, though length of time varies. Again, removing TADS also involves a quick and painless procedure.
TADS have been around for a long time, but recent refinements in the design and application procedure have allowed for more widespread use in the orthodontic office. TADS can be used for many different reasons, including eliminating the need for cumbersome appliances, such as headgear. They also offer a great way to reduce orthodontic treatment time. Finally, they allow certain cases to be treated that were nearly impossible before this technique was refined.
If you would like more information about TADs, please contact us or schedule an appointment for a consultation. You can also learn more by reading the Dear Doctor magazine article "What are TADs?"