Posts for: January, 2014
By Mission Hills Family Dentistry Inc.
January 14, 2014
The
Zoom whitening
products you find at a dentist office leave over-the-counter whitening solutions in the dust, no contest. That's why patients need to see a dentist to get a Zoom whitening treatment. You might be skeptical of in-office systems, such as Zoom, but it has proven to be a fierce contender amongst other whitening products. Dr. Gayatri Sakhrani's Fremont cosmetic dentistry office offers Zoom and Zoom 2 whitening systems. The benefits are crystal clear. Check it out below!
Fast Results
You don't need to wait weeks to see a one or two shade difference. With Zoom 2, your Fremont dentist can tailor the application to your whitening needs. It's simple and effective. The Zoom system promises visible results after one treatment, and it can give you a smile eight shades brighter!
Lower Sensitivity
Peroxide, a main ingredient in whitening products, has been known to cause tooth sensitivity. To decrease tooth sensitivity, there needs to be a desensitizing compound blocking the sensation that travels from the tooth's surface to the nerve. The Zoom system utilizes potassium nitrate and Amorphous Calcium Phosphate (ACP) to desensitize teeth, so you can experience little to no discomfort during a whitening treatment.
Less Fade Back
It's great when you see positive results, but sometimes it can be short-lived. Zoom 2 gives long-lasting results. If you get maintenance whitening here and there, your teeth will continue to look pearly white. It's like working out. You might start to see the weight loss results, but you need to continue your workout regiment to ensure constant fitness.
Your Fremont dentist is the best resource to find out the steps you need to take for a whiter smile. What questions do you have regarding Zoom or Zoom 2? We have both readily available at Missions Hills Family Dentistry.
By Mission Hills Family Dentistry Inc.
January 14, 2014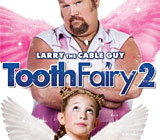 Did you know that severe tooth decay is America's #1 chronic childhood disease? Actress Brady Reiter didn't know either — until she became the star of the movie Tooth Fairy 2, and then joined forces with the National Children's Oral Health Foundation: America's ToothFairy®.
"Before, I didn't even realize what can happen to kids if they don't take care of their teeth," 11-year-old Brady recently told Dear Doctor magazine, after viewing photos of children suffering from severe tooth decay. "There are kids in America who don't know that it's important, or they just don't have the resources to be able to take care of their teeth or to go to the dentist."
This young Tooth Fairy knows just how magical — and vital to a child's self-esteem — a beautiful smile can be.
"When you feel bad about opening up your mouth and smiling, a kid's confidence just goes down the drain," she said.
NCOHF recently tapped 11-year-old Brady to head the America's ToothFairy Kids Club, which offers kids personalized letters from the Tooth Fairy along with lots of encouraging oral health tips and fun activities — free!
"I'm really excited to be part of it," Brady told Dear Doctor. "Kids learn how to take care of their of smile by joining this club. By supporting America's ToothFairy, we can help kids in need get dental care and have a healthy smile too. It's really amazing!"
While lots of kids get an occasional cavity, millions of children have tooth decay so severe that it interferes with their ability to eat, sleep, and concentrate in school. The good news is that tooth decay, a bacteria-induced infection, is preventable.
"When kids join the club, they learn how to prevent tooth decay. When families support this great cause, we can help kids in need. And that's what feels great — that we really can make kids' futures better."
If you would like to enroll your child in the club — it's free! — please visit www.AmericasToothFairyKids.org. And to make sure your child's teeth and your own are decay-free and as healthy as possible, please contact us today to schedule your next appointment.