Posts for: August, 2013
By Mission Hills Family Dentistry Inc.
August 21, 2013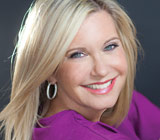 Though it's been a while since Olivia Newton-John sang her way into our hearts in the movie Grease, her smile is as radiant as ever. Today, Olivia is still singing, acting and busy with new ventures such as authoring a cookbook and raising money for the cancer center that bears her name in Melbourne, Australia. Whichever part of the world Olivia finds herself in, she protects that beautiful smile with an oral appliance that many find beneficial.
"I wear a nightguard to prevent wear on my teeth, custom-made by my dentist," Olivia recently told Dear Doctor magazine. "I love it!"
Olivia's device, also referred to as a bite (occlusal) guard, is designed for people who clench or grind their teeth at night, or during stressful periods. Made of thin, wear-resistant plastic, it is custom-made to fit exactly over your top teeth. This allows the bottom teeth to slide gently across the top teeth without biting into them. Not only does this prevent excessive tooth wear, it also helps relax the muscles of the jaw.
Grinding or "bruxing," as it's also called, can affect virtually any part of the oral system: the jaw joints or muscles, resulting in spasm and pain; the teeth themselves, resulting in wear, fractures or looseness; it can even cause an aching in the ears, head, neck or back.
If you are a teeth-grinder, you might not even know it unless a sleeping partner hears it or your dentist notices signs of wear. These habits are called "parafunctional" (para – outside, function – normal), meaning the biting forces it generates are well outside the normal range — sometimes as much as 10 times normal. So it's no wonder that damage to teeth can occur if they are not protected.
If you have any questions about grinding habits or nightguards, please contact us or schedule an appointment for a consultation. If you would like to read Dear Doctor's entire interview with Olivia Newton-John, please see "Olivia Newton-John." Dear Doctor also has more on "Stress & Tooth Habits."
By Mission Hills Family Dentistry Inc.
August 06, 2013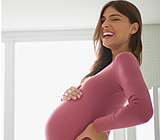 A woman during pregnancy naturally pays close attention to her general health, instinctively knowing it affects her developing baby. Ironically, it's also common for a woman during pregnancy to neglect her dental health, due to new physical restraints and fatigue that make regular tasks more difficult and tiring.
But pregnancy is no time to drop your guard: due to hormonal changes, a woman is more susceptible to disease and tooth decay. This can lead to increased sensitivity and gum inflammation that may develop into what's known as pregnancy gingivitis. This is of great concern during pregnancy, as the oral bacteria responsible for gum disease can cross over from mother to baby through the placenta. This could cause an inflammatory response by the mother's body that might result in a preterm birth with a low birth weight for the baby.
There are some things you should do to maintain vigilance. First, you should schedule an appointment with us at the beginning of your pregnancy to discuss and prepare a dental care plan. We can advise you more fully about how pregnancy affects your dental health and what we can both do about it.
A healthy diet from the beginning and throughout pregnancy will provide your child with the nutritional building blocks for his or her developing teeth, which begin to form around the sixth week. You may also develop cravings for certain foods, especially sugary or starchy snacks, which increase your risk of tooth decay. If at all possible, try to limit your intake of these kinds of foods or substitute raw fruits, vegetables or dairy products instead.
Oral hygiene is critical during this time in your life. Daily gentle brushing with a soft bristle toothbrush and flossing will help reduce the level of bacteria that causes gum inflammation. And, if you do notice sensitivity, swelling or bleeding from the gums, you should visit us as soon as possible for examination and treatment. It's also very important during your pregnancy that you schedule regular cleaning appointments. Because of hormonal changes, it's common for gum inflammation to become exaggerated making you more vulnerable to bone loss.
Remember: caring for your oral health when you are pregnant is just as important for your baby as it is for you.
If you would like more information on the relationship between pregnancy and oral health, please contact us or schedule an appointment for a consultation. You can also learn more about this topic by reading the Dear Doctor magazine article "Pregnancy and Oral Health."