Posts for: April, 2013
By Mission Hills Family Dentistry Inc.
April 20, 2013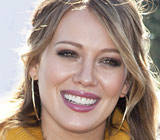 Many Hollywood luminaries use porcelain veneers to enhance their smiles. Take actress and singer Hilary Duff, who, according to People magazine, had veneers placed on her two front teeth after chipping them on a microphone during what must have been an extremely energetic performance.
Well, you don't have to be a Hollywood star to benefit from a smile enhanced with porcelain veneers. If you have small chips, cracks, slight tooth rotations or minor spacing problems, veneers may be able to give you back your smile — or an even better one.
The word "veneer" refers to a super-thin covering, and in dentistry a veneer is a thin layer of porcelain that replaces your natural tooth enamel. Porcelain is the material of choice because of its strength, translucency, and ability to resist erosion.
In the right hands, dental porcelain can mimic tooth enamel perfectly. To make veneers, a skilled dental technician will mix porcelain powder (in a shade specified by the dentist) with water and then fire the material in an oven like pottery; the porcelain is built up in layers for a truly lifelike effect.
Before a veneer is bonded to a tooth, often we need to remove a tiny bit of the tooth's existing enamel so that the final effect will not be too bulky. The procedure is virtually painless and can be completed in as little as two visits. Because enamel is removed, this particular cosmetic treatment is not reversible. Sometimes veneers can be added directly onto the tooth surface without any tooth reduction and therefore are reversible if used in this way.
Once you have veneers, please keep in mind that while extremely strong, porcelain veneers are not indestructible; you won't want to do things like crunch ice or break nuts open with your teeth. And if you are a teeth-grinder, you should wear a nightguard to protect your beautiful new smile. With proper care, your veneers will last 20 years or more.
If you would like more information about porcelain veneers, please contact us or schedule an appointment for a consultation. You can also learn more by reading the Dear Doctor magazine article "Smile Design Enhanced With Porcelain Veneers." Dear Doctor also has more on "Cosmetic Dentistry: A Time For Change."
By Mission Hills Family Dentistry Inc.
April 04, 2013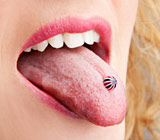 Whether you think they're the height of fashion or the depth of "ice," oral piercings like tongue bolts are a sign of our times. But along with these bodily adornments come a host of questions about risks to the wearer's health, both immediate and long-term. To help sort out these concerns, here are five facts everyone ought to know about oral piercings.
Oral piercings can cause acute health problems.
Rarely, nerve problems may result from an oral piercing. In at least one case, a teenager who had just gotten a tongue bolt developed severe facial pain and the feeling of electrical shocks. A neurologist traced these symptoms to an irritated nerve in the tongue, and the bolt's removal made the pain go away. More commonly, however, the immediate problems are soreness in the area of the piercing, bleeding in the mouth, and the risk of infection.
Oral piercings can lead to gum disease.
Periodontal problems associated with oral piercings include gum recession, inflammation, and even infection. Long-term bone loss may also be an issue. Over time, all of these conditions may affect a person's general health.
Oral piercings can lead to tooth problems.
Tooth pain and sensitivity are sometimes reported after the installation of an oral piercing. Chipping of the teeth is also a possibility, due to repeated contact with the metal of the ornament. People who decide to wear oral piercings should consult with us about increasing the frequency of their dental checkups.
Closing the hole left by a tongue piercing may require minor surgery.
As is the case with an ear piercing, the hole made for a tongue bolt often closes on its own. If it doesn't, a little surgery may be required to help it. In some cases, the tissue around the piercing may need to be removed before the hole itself can be sewn closed. Carried out under local anesthesia (a numbing shot), however, the procedure is usually simple and quick to heal.
Removing an oral piercing improves your oral health.
Losing the piercing reduces your risk factors, and thus improves your oral health. It's as simple as that. But any decision about oral piercings is ultimately yours to make. You should have a frank conversation about its risks and benefits with a knowledgeable health professional.
If you would like more information about oral piercings, please contact us or schedule an appointment for a consultation. You can also learn more about this topic by reading the Dear Doctor magazine articles "How Oral Piercings Affect Your Oral Health," and "Body Piercings and Teeth."